Sonam Kapoor is going to become a mother soon. Now she is seven months pregnant. According to sources, she will give birth to the child in August. Sonam and Anand's first child Sonam is currently in London. Where she is enjoying the beautiful moments of pregnancy with her husband Anand Ahuja. Anand is trying his best to keep his pregnant wife happy. Anand recently hosted a special baby shower party for his wife. Sonam Kapoor was looking very beautiful in a pink color dress. (Photo – Instagram @sonamkapoor)
sonam's sadh saji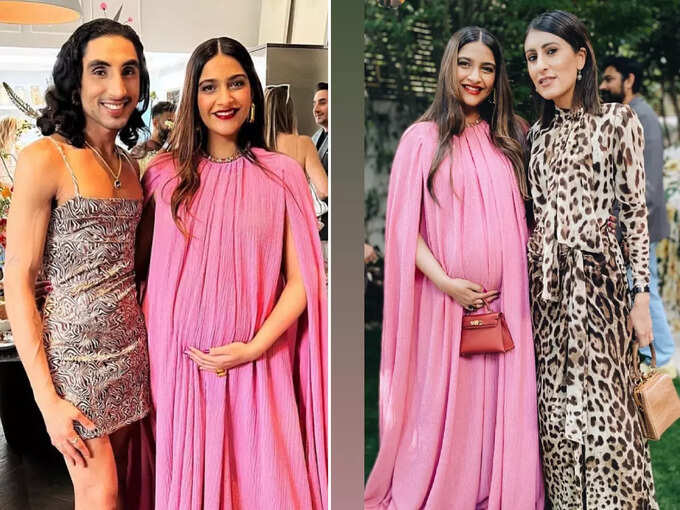 Apart from Sonam's sister Riya Kapoor, there were close friends of both of them. Inside photo-video of Sonam's Sadh is also covered on social media at this time. The glamor quotient of the party was so great that everything from the menu to the customized gifts and looks of an expectant mother was like copying. Sonam is about to become a mother, she is also a fashionista at this time! His dressing is superb.
sonam in pink dress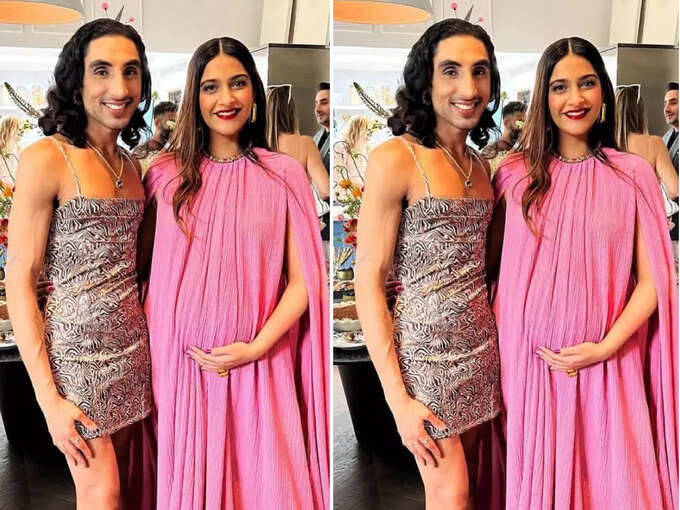 Sonam Kapoor wore a pink color gown on this occasion. Taken from the collection of renowned New Zealand fashion designer Emilia Wickstead. This is a one of a kind floor-length pattern dress. which is of light colour. was making a UMF factor.
The pattern of the dress was kept in a complete coverage look, so that not a single part of the skin was exposed. Although a part of the hand was cut, Sonam got the benefit of moving her hand.
Sonam flaunts her baby bump very beautifully. There was no embroidery on this dress. However, light plaits have been added with stitches on the neck to create a focus point. The detailing was beautiful, which broke the monotone of the dress. This dress was undoubtedly the best in terms of comfort, but this type of dress also has disadvantages. There's always a risk element to this outfit.
fashion queen looking amazing
A dress has a circumference. Therefore, there is a possibility of getting trapped in such a dress. Which can sometimes cause trouble. But yes, when it comes to fashion queens, there is nothing unusual in them. In the picture, Sonam is seen flaunting her baby bump with her hand.
the look is awesome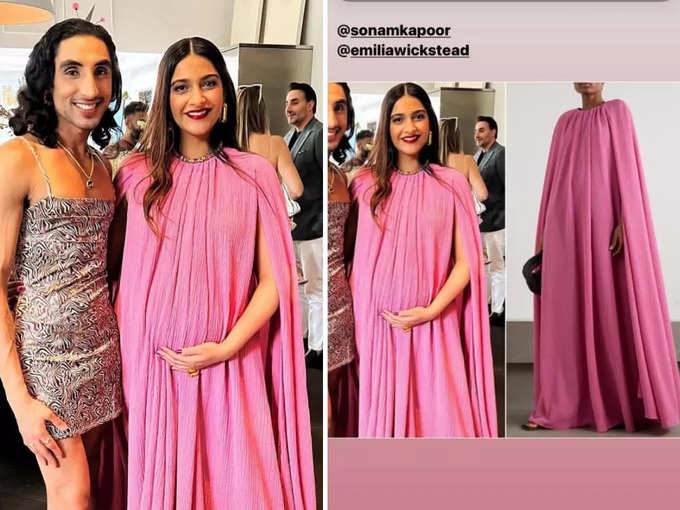 Sonam Kapoor styled a single tone dress with a gold necklace and hoops earrings. Which created a contrast with his look. At this point, she insisted on makeup. She used red lipstick on her lips. He had kept his hair open. He looks so cute that there is no way to take my eyes off him.
Read more: At the age of 42, Raima gave the answer to the deep neck dress! girls should be jealous of pictures